Chef2You
Bringing a gourmet meal to your home right from your fingertips | 2021 
Chef 2 You is a food delivery service app that makes it possible for you to enjoy an amazing, certified chef-prepared meal, in the comfort of your own home. No sitting in traffic, no waiting in line at the restaurant, and no unexciting chain food when you don't feel like going out or cooking.
The Chef 2 You app is perfect for a family gathering, a memorable date night, or anytime you want a first class meal without the hassle!
Italian, Mexican, Chinese, Greek, Jamaican – what's your pleasure? Chef 2 You allows you to order whatever type of cuisine you're in the mood for, from the best certified chefs in the area. And Chef 2 You doesn't stop at a chef-prepared meal delivered to your front door…have your drinks prepared by a professional bartender, coffee made to your liking from a local barista, or your party catered with delightful offerings from your favorite local food truck.
It's all as simple as pulling out your smartphone. Click here to get the app today, and say goodbye to predictable food from predictable chains!
Have a look at Chef 2 You's upcoming promotional events below, and see if there's one happening at a shopping mall near you.
You won't want to miss the chance to try some outstanding dishes in the festival atmosphere!
Are you a chef, bartender or food truck owner interested in joining Chef 2 You to showcase your talents and supplement your income?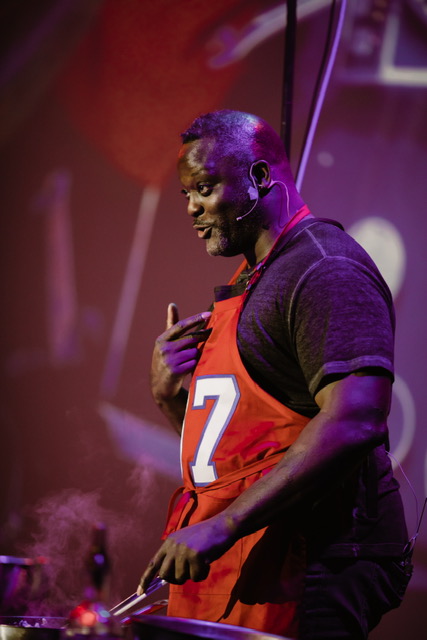 Jarvis Green
About Jarvis Green
Former NFL champion Jarvis Green is the ambassador for Chef 2 You. He is a retired NFL defensive end from the New England Patriots, and a successful entrepreneur in multiple fields.
Following an NFL career that included two Super Bowl Championships, Green founded Oceans 97, selling his outstanding canned shrimp pate. He went to great lengths to learn about the shrimp business to create the best possible product, including spending six months in a shrimp factory as an intern.
During the COVID-19 pandemic, Green also successfully helped supply PPE and hand sanitizer to GOHSEP of Louisiana and the Tennessee National Guard, among others. During the height of the pandemic, Green's PPE and hand sanitizer enterprises were wildly successful, in part due to their offering affordable products as rampant price gouging was going on in the industry.
As the pandemic continued, Green was instrumental in helping to launch Chef 2 You, to give better choices to people with limited food delivery options, and to help struggling chefs find income opportunities beyond restaurants in the area.
Jarvis Green is no stranger to high quality eats. He currently lives in South Louisiana, where the locals respect great food. As an NFL player, he also spent eight years in the great city of Boston, another area well respected for high-end chefs and gourmet food.